TravelPro helps you get more work done in less time. Automate your daily tasks, improve your decision making with real time data, and gather all your business information in one place.
Client/Travelers Management – You can easily add, edit, and manipulate client profile information as well as track all related tours, bookings, invoices, payments and notes.

Tour Management – You can manage all aspects of the tours, different departure dates, cost, hotels, guide, sites to go, guides, group size, featured tour, guaranteed tour and also create PDF file to send to your customers.

Smart Tour Calendar – Tour calendar that shows all the tours in your system. You can also add Google Calendar easily.

Bookings – Create bookings with one click. You can add as many travelers as you need under the same booking, add tours, flights, hotels, rent a car or other extra services.

Hotels & Room Rates – Add all the hotels you work with, and add room rates, room pictures and also add notes about hotels.
Travel Agents – Add travel agents you work with and add notes about them

Invoice – Create, view and print invoice and payment receipts.

Payments – Add, edit, view all the payments made by clients.

Guide – Add guides, their CV and follow the tours they have conducted.

Staff Management & Groups – You have flexibility over the permissions of each group and its member, what they can see, view, add, delete

Multi Language – You can translate your app to any language you like. It comes with 7 Languages already. English, Ελληνικά, हिंदी , Italiano, Portugués, Türkçe

User Log – Have full control of your app with all the logs

Intuitive User Interface – 100% adaptability by your employees.
Hotel Categories
Hotel Types
Hotel Facilities
Room Types
Room Amenities
Tour Categories
Optional Tours
Extra Expenses
Extra Services
Inclusions
Car Brands
Car Extras
Cars
Countries
Cities
Sites
Admission Fees
Airports
Shopping Types
Currency List
Payment Types
Supplier Types
Suppliers
Guide Languages
Airlines
Vehicle Types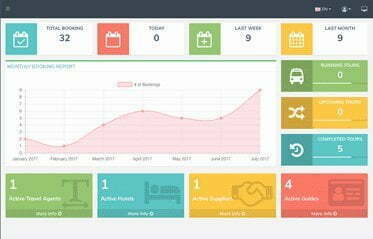 Get More Work Done In Less Time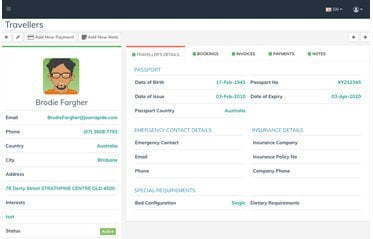 Create & Manage Bookings
Passenger List, Tours, Hotels, Filghts, Rent a Car, Extra Services
Manage Clients
Client Details, Bookings, Invoices, Payments and Notes